15 Reasons Why You Absolutely, Positively Shouldn't Leave L.A. This Weekend
Call us homebodies, but lately we've been giving our frequent-flier miles a break. It's just hard to justify fighting over the aisle seat when L.A. literally has it all: desert vistas, world-class beaches, killer tacos, and a disproportionate ratio of the best-looking people on the planet. What more could an adventuress need?

To celebrate staycationing in the city we call home (and our aversion to waiting in security lines), we teamed up with extended-stay hotel HYATT house® in El Segundo to pick the brain of L.A. blogger, art curator, and consummate city-hound Heather Taylor of L.A. in Bloom. A Los Angeles native, Taylor's street cred and impeccable taste (did we mention she has her own line of designer table linens?) make us scramble for our notebooks when she mentions the best places to take in an indie flick or sip the ultimate chai latte.

We plan to spend this weekend exploring our own city like a pro, minus the tourist traps. Join us as we hit up Taylor's favorite spots: no boarding pass required.
Violet Grey
Miles from HYATT house®: 13.8

"All the products in this small, trendy makeup shop have been selected and vetted by the industry's top makeup artists. It's like being able to peek inside their bags to see the foundation they're using for all their runway shows or which lipstick they love for the season. I feel like it's a reaction to Sephora — and, in typical L.A. fashion, it's the most glamorous reaction you can imagine."

Violet Grey, 8452 Melrose Place, West Hollywood; 323-782-9700.
Book Soup
Miles from HYATT house®: 17.6

"Book Soup is rad. It's been around since the '70s, and they have a cool, old L.A. look. In addition to readings and signings, they have a great selection of international magazines and a whole table of books about L.A., including really neat history and design books. I love looking at the staff-picks table up front or getting lost in the maze of shelves for hours. My husband and I will literally spend hundreds of dollars there before the holidays."

Book Soup, 8818 Sunset Boulevard, West Hollywood; 310-659-3110.
Milo & Olive
Miles from HYATT house®: 15.1

"Milo & Olive is one of my favorite places to eat on the West Side. Josh Loeb, the chef, also has a bakery called Huckleberry, and his love of bread comes across in the puffy, perfectly chewy crusts on his wood-fired pizzas. The garlic knots are an absolute do-not-miss: About the size of a baseball, they're a full head of garlic wrapped in dough and baked to perfection. They take about 25 minutes to come out of the oven, though, so order as soon as you sit down!"

Milo & Olive, 2723 Wilshire Boulevard, Santa Monica; 310-453-6776.
The General Store
Miles from HYATT house®: 9.3

"This is just one of the best gift shops in Los Angeles. There are tons of vintage and artisan goods from local designers. And, it's in Venice, so you can make a whole day of it with food and shopping around. It's the perfect place to pick up something chic and awesome."

The General Store, 1801 Lincoln Boulevard, Venice; 310-751-6393.
Hollyflora
Miles from HYATT house®: 12.1

"Becky and Holly, the women who run Hollyflora, are really more artists than florists — they even do collaborations with local museums like LACMA and MOCA. Their brand-new boutique is a plant- and garden-focused gift store. I go there to pick up arrangements or just get inspired by their beautiful designs. Hollyflora is my favorite florist in Los Angeles." [Ed. note: That's a high compliment coming from the proprietress of L.A. in Bloom!]

Hollyflora, 5046 West Pico Boulevard, Mid-City; 323-591-1120.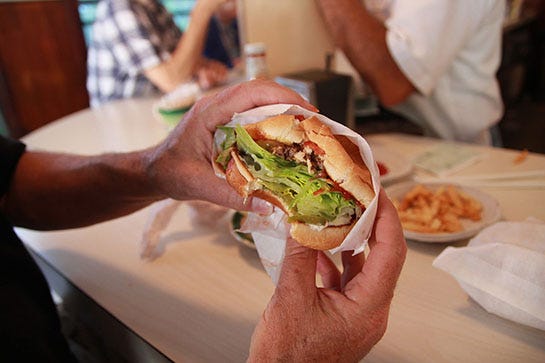 Apple Pan
Miles from HYATT house®: 12.2

"I grew up here and went to Apple Pan as a kid, and this place is completely unchanged since it opened in the '40s. It's a real, authentic diner that's flooded with regulars who don't want people to know about it. They make a classic hickory burger that is my favorite thing ever, and obviously they have great apple pie. Warning: Like all authentic diners, it's cash-only."

Apple Pan, 10801 West Pico Boulevard, West L.A.; 310-475-3585.
République
Miles from HYATT house®: 13.4

"This restaurant used to be Charlie Chaplin's office! It's an exceptionally gorgeous place with a little bit of Hollywood history, and I love it because it's mellow, the light is really good, and they have 30 or 40 different types of seasonal pastries every day. They also make the best chai lattes and espresso drinks, served in handmade ceramic cups. It's just a dream zone in there."

République, 624 South La Brea Avenue, Central L.A.; 310-362-6115.
Olive & June
Miles from HYATT house®: 16.8

"This Beverly Hills pampering spot is kind of like the Drybar concept but for nails. You go for a mani-pedi, and they offer you watermelon juice, coffee, or tea. And, their wall of colors is so beautifully designed, I'm always like, What the heck am I going to get on my nails today? Even their magazines are good — up-to-date issues of Vogue Paris and The New Yorker — making this place the perfect mini-break for your digits and your brain."

Olive & June, 430 North Cañon Drive, Beverly Hills; 310-247-0500.
ArcLight
Miles from HYATT house®: 16.4

"If you want to play tourist in L.A. (but you actually live here), skip the lines in Universal City and catch a flick at ArcLight instead. Their ArcLight Presents series features cool old movies at least once a week, and sometimes they have Q&As with celebrities or industry insiders. Treat yourself to the homemade caramel corn, and settle into one of the luxurious seats — it's the way the movies should be."

ArcLight, 6360 West Sunset Boulevard, West Hollywood; 323-464-1478.
Joan's on Third
Miles from HYATT house®: 13.3

"Joan's on Third is a cozy, beautifully presented marketplace where you can pick up gourmet ingredients, cookbooks, and wine. Or, just chill for hours over a delicious breakfast and perfect coffee. Joan, the proprietress, is the sweetest woman you'll ever meet, and she's been churning out incredible food there for almost a decade. The space is light and airy but charming — it hits all the right notes."

Joan's on Third, 8350 West Third Street, West Hollywood; 323-655-2285.
Rolling Greens
Miles from HYATT house®: 10.0

"We have such neat native plants in California, and Rolling Greens is a beautiful nursery to pop into if you're in Culver City. It's a great place to see quintessential Los Angeles flowers and plants."

Rolling Greens, 9528 Jefferson Boulevard, Culver City; 310-559-8656.
Petit Trois
Miles from HYATT house®: 14.9

"The chef here, Chef Ludo, is a TV celebrity, but that's not even the main draw. I come for the authentic French bistro fare: My favorites are the salads, baguette with butter, and omelets — they seriously make the best omelet I've ever had outside of Paris. The chic, tiny bar only fits 24 people, so come early or fashionably late."

Petit Trois, 718 North Highland Avenue, Central L.A.; 323-468-8916.
Maha Yoga
Miles from HYATT house®: 15.6

"Telling an L.A. native to take a yoga class is like telling a squirrel to gather nuts, which is why I always look for unique and different takes on the basics. Maha Yoga is a really interesting L.A. scene: The owner plays Top 40 music during his classes. It's just a really fun and different way to relax."

Maha Yoga, 13050 San Vicente Boulevard, Brentwood; 310-899-0047.
The Santa Monica Farmers' Market
Miles from HYATT house®: 13.2

"The Santa Monica Farmers' Market is open every Wednesday and Saturday morning; it's pretty much where all the chefs in Los Angeles go to buy their produce for the week. It's pretty serious, and I think it's the biggest produce market in Los Angeles. You'll find row after row of California produce, and it's right by the ocean, so you're constantly getting these amazing salty breezes. Yum."

The Santa Monica Farmers' Market, Arizona Avenue (between Fourth Street and Ocean Avenue), Santa Monica; 310-458-8712.
A+R Store
Miles from HYATT house®: 12.1

"What's a staycation without souvenirs? I love A+R on Abbot Kinney for unique, design-centric gifts and household items. Revered fashion journalist Rose Apodaca opened it about seven years ago with her husband — it's the kind of stuff you'd find at a design store but a lot cooler because it's a mom-and-pop."

A+R Store, 1121 Abbot Kinney Boulevard, Venice; 800-913-0071 ext. 2.
Like what you see?How about some more R29 goodness, right here?
An Instagrammer Just Won $1,600 With This Snap
These 11 Aerial #Travelgrams Will Make You Want To Hop On A Plane
The Secret To Navigating A Foreign City Like A Pro
Posted by katalina viana
11th November, 2014