The Perfect Glasses For Your Face Shape (& Personality)
We all have our staple pieces: the black coat we wear all winter, the ankle booties that look great with everything in our closet, and the tote bag that carries all of our essentials. And, the one item many of us literally cannot get out of bed without: glasses.

Unlike a handbag, glasses are not a one-size-fits-all deal. Finding the perfect pair can test your patience. Are they cute and durable? Do they make a statement but still go with everything? Do they even really fit, or are we just imagining ourselves as Zooey Deschanel? We set out to demystify the glasses-shopping process by going straight to the experts: Sarah Betzwieser, Lily Algair, and Catherine Magee from Ditto; Vanina De Preneuf from glasses.com; and Selima Salaun of Selima Optique.

Pay Attention To Face Shape
What ultimately determines which eyewear options work and which don't is your face shape. There are supposedly seven types: round, square, oval, oblong, heart-shaped, triangle-shaped, and diamond-shaped. If you're unsure of what category you fall under, Frames Direct recommends simply "trac[ing] an outline of your face" using a picture of yourself, and noting which shape it resembles most closely.

Pick A Shade That Flatters
Once you've got your frames in hand, you'll want to focus on the details: namely, the color of your glasses. You want to find a hue that coordinates with your skin and hair tones. Salaun chimes in: "If you have dark hair," she suggests "glasses in a dark tone [that] will bring out the richness in [your] coloring. If you have light hair, you might want to choose a frame that brings out the cream color, [brightening] your skin and your hair. Dark frames tend to lighten [pale] skin by contrast, and mid-toned frames tend to bring out the warmth in your face."

Lens Logic
Then, you've got to fill in your frames with the right lenses — you know, the feature that actually improves your vision. There are four main lens categories, according to allaboutvision.com: plastic, polycarbonate, trivex, and high-index plastic. Algair adds ultra-thin polyurethane to this list for individuals with stronger prescriptions. (For a full breakdown of lens options according to your prescription, check out this article.)

First Impressions Matter
When it's time to try on your options, that first look is key — regardless of your face shape. "See if the frame is wearing you," Salaun suggests, "or if you see yourself first." If the first thing you notice are the glasses, you might want to go for a more subtle pair, so the effect is not so jarring. Both Salaun and Algair agree that one of the most common mistakes people make when shopping for glasses is gravitating towards options they've liked on other people. We all want to copy our favorite four-eyed icons, but we need to put ourselves (and our features) first.

Ask For Help
Don't be afraid! "Opticians have seen many faces and should know their collections well," says Salaun. "If you have a good rapport with your optician, you can expect to find the best frames for you."

With the help of these optical experts, we found optical frames and sunnies for each face shape — to make the eyewear-shopping process less of a doozy. Check out our picks and more tips, ahead.
Round
We'll start with a round face. You want a frame that doesn't exaggerate that roundness — try an angular one, like a rectangle or wayfarer shape. Vanina De Preneuf of glasses.com says this style "adds definition to this soft-accented face that needs [it]."
Round
These bold, rectangular frames from Warby Parker come with all the fixings: polycarbonate lenses, anti-scratch and anti-reflective coating, and the brand's signature try-before-you-buy policy.
Round
Black isn't the only color that goes with everything: Try out an equally versatile olive frame to give your glasses an unconventional twist.
Round
A casual and colorful frame that comes in a variety of bright hues.
Round
Forego the plastic wayfarer for a more modern, wooden frame. This particular style comes with polarized lenses, which Sarah Betzwieser of Ditto explains "help filter out color waves, making it easier to distinguish" things on the horizon on really sunny days — particularly helpful for folks spending time outdoors or driving long distances. Wood has recently been on the rise in the eyewear market, presenting an affordable, lightweight, and unique option.
Square
When buying glasses, the rule of thumb is: Instead of highlighting the shape of your face, complement and soften it. So, if you're square-shaped, you'll want to do the opposite of your round-faced counterpart and go for curved corners. To achieve this, Algair recommends a cat-eye or something with a more "oval look."
Square
Like a party for your face, these sparkly Kate Spade cat-eyes will brighten your mood every day.
Square
If you like the angular, try this cat-eye on for size: The sharp corners preserve the boxy aesthetic, while the rounded shape of the frame flatters your square face.
Square
You'll hardly feel this lightweight metal frame on your face — but, trust us, it'll look good.
Square
"Alright Mr. DeMille, I'm ready for my close-up," — you, every time you wear these fabulously oversized, round sunglasses.
Oval
Oval "is the easiest face shape in fitting frames," according to Selima. Your two focus areas should be cheekbones and brows. Catherine Magee of Ditto agrees, adding that you should seek out a frame that's "the same width as your face." Vanina tells us that "squares and rectangles" best complement an oval shape.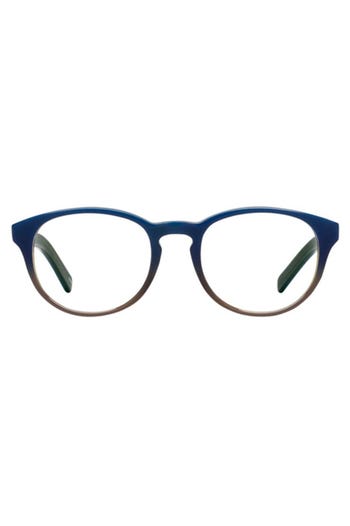 Oval
Lucky you — most frames will suit your face shape, as long as they're on the wider side. You can go for a longer, round frame...
Oval
...or, an oversized, wide-set cat-eye.
Oval
If you're more about square frames, Vanina picks out this pair from glasses.com's Sorella + Tomboy KC collection. We can't argue with the boxy shape, slightly oversized fit, and sweet price point.
Oval
The modern classic pair of sunglasses. You can never go wrong with Karen Walker.
Heart-Shaped
Heart-shaped faces have a broad forehead and strong chin. The solution: "frames that are angled outward at the bottom," says Lily. This translates to classic aviators, which usually posses other features that flatter a wide forehead, such as "lighter colors and more delicate or rimless frames."


Heart-Shaped
These metal frames boil down to the essential silhouette. They have spring hinges, a feature Sarah recommends for added "comfort and fit." You can either choose "a silicon nose pad so that the glasses sit on your face, or a classic, fixed nose piece," adds Sarah. The nose pad will not only enhance the style of the frames; it will also determine how they fit and sit on your face.
Heart-Shaped
Half metal, half plastic: This aviator frame is the best of both worlds.
Heart-Shaped
You haven't seen pilot frames like these before. While most aviators are made of lightweight metal, "plastic frames offer the opportunity to be a little more expressive with the glasses that you're wearing, versus most of the metal styles [that] tend to be more basic. It's hard to jazz those up," adds Sarah.
Heart-Shaped
Ray-Ban's classic aviator frames get a contemporary twist with green, mirrored lenses. Vanina also recommends these for square- and oval-shaped faces.
Triangle-Shaped
Faces that are shaped like upside-down triangles have a super strong chin. To downplay this, Lily recommends a cat-eye, which "will really bring more attention to your upper face." She adds that "you also want to pick darker colors and bolder frames, to add weight to your upper face, balancing the broadness of your chin."
Triangle-Shaped
This retro-inspired frame from Elizabeth and James has a cat-eye bend around the corners, with a half-rim wayfarer illusion that further highlights the top of your face.
Triangle-Shaped
This may look like your classic cat-eye, but the striped detailing provides a cheeky contrast to the blue frames, making them stand out.
Triangle-Shaped
Aside from the curved edges you want out of a frame, this bold pair features an eye-catching striped print that'll keep all the attention focused right where you want it: on your eyes.
Triangle-Shaped
These oversized, round cat-eye sunglasses will win you all of the compliments.
Oblong
In essence, an oblong face is just an elongated oval. Selima proposes a horizontal cat-eye for this shape; these frames will sit across your face but also have some curved edges. Lily, on the other hand, thinks that "round or geometric shapes, things that might be decorative on your temples" are the way to go. The goal is to "make the face look a little shorter," Lily explains.


Oblong
You have a free pass to have fun with your glasses, so go for a bright color.
Oblong
Rimless frames are very lightweight, but can be slightly more intimidating and harder to pull off. Ease into the look with this angular, semi-rimless pair.
Oblong
"For the oblong shape, it's good to find a frame that emphasizes the opposite of what is dominant in the face," says Selima. "We would recommend [our] Claire frame," a hybrid between a rectangle and a cat-eye.
Oblong
Sienna Miller vouches for them, so you know these round sunglasses are worth the investment.
Diamond-Shaped
Much like diamonds themselves, this face shape is characterized by sharp edges and angular features. Lily suggests finding a frame that's "heavier on top," so as to "bring more emphasis to the top and the corners of your face."And, she says "to avoid glasses that have a flat top, because [they'll] accentuate your cheekbones" too much.
Diamond-Shaped
If it ain't broke, don't fix it: This '60s-style wayfarer frame has always been perfect.
Diamond-Shaped
Walk on the wild side — it's never looked this good.
Diamond-Shaped
Instead of racking your brain around how to add a pop of color to your everyday wardrobe, find glasses in a bright hue that's also universally flattering.
Diamond-Shaped
Looking for a single piece to make your entire wardrobe feel cooler? These sunnies are the clear winner.
Like what you see?How about some more R29 goodness, right here?
13 Wear-Every-Day Underwear Sets For The New Year
The 6 Stores We Can't Wait To Shop in 2015
30 AMAZING Shoes To Start The Year Off On The Right Foot
Posted by katalina viana
2nd January, 2015