The Minimalist's Guide To Holiday Decorating
We grew up loving the holidays, and we never really stopped. But, this year, we're taking a simpler approach. Getting into the spirit shouldn't have to mean going overboard. Just ask Caitlin Mociun. The jewelry designer is a master of minimalism, and she knows how to weave seasonal style into her subtle year-round decor. We were lucky enough to see it for ourselves and pick up a few tips when she invited us over to get her home December-ready.

The second we stepped into her Williamsburg, Brooklyn, apartment — a stone's throw from her jewelry store, Mociun — it became apparent everything was purposeful, elegant, and ripe with inspiration. With holiday touches from Pier 1 Imports, she ensured her place was perfectly festive but not at all overdone. Ahead, a case study that proves the old less-is-more adage is actually true, even during the glitziest time of year.
With a knack for displaying everyday objects uniquely, Caitlin chooses to cluster greenery on one corner of the floor instead of scattering it on windowsills and tables. The effect is striking without a hint of clutter.
Holiday decorating calls for a cocktail, and a classic old-fashioned gets a festive twist with cranberries and oranges for garnish.
Who needs a tree when you can create vignettes like this? Garland is easily draped over year-round decor for a natural, festive touch.
Wear all the red and green you want, but when it comes to holiday decorations, Caitlin's all about white. Layer a white blanket on white furniture to play with texture without feeling too precise.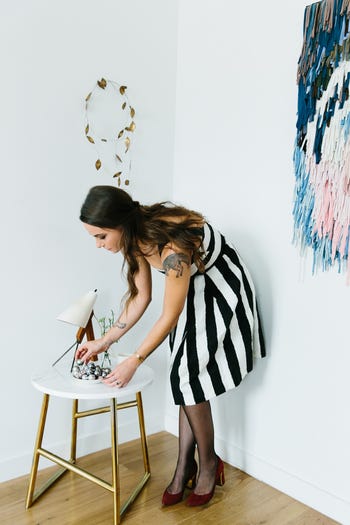 No tree doesn't mean no ornaments. Find new ways to use them like with this white bowl filled with silver ornaments to create low-key glitz.
To break up the sparkle of silver, add the slightest bit of color. Here, Caitlin mixes in a few red-and-white speckled objects for an extra-unique touch.
Caitlin is a big fan of kitschy, fake-food objects, so this pickle ornament creates a festive look while meshing with other objects seamlessly.
With a jewelry store full of her own creations, it's easy to be all about giving handmade gifts. Caitlin either customizes pieces for friends and family or handpicks items in her shop.
Instead of wasting paper every time you need to wrap a present, consider furoshiki, a Japanese wrapping technique. Just lay out a square piece of fabric in a diamond shape, and place a box in the center. Bring the top corner over the box, and then tuck it underneath. Repeat with the bottom corner. And, voila!
Pretty, right? Furoshiki is a great way to upcycle cloth napkins, tea towels, and vintage silk scarves. You could even work in some pops of red and green...after all, minimalism does not mean nothing.
Like what you see?How about some more R29 goodness, right here?
This Tiny House Fits An Entire Family — Including A Great Dane
This Might Be The Most Stylish Subscription Box Ever
30 Made-In-Chicago Gifts For Everyone On Your List
Posted by katalina viana
8th December, 2014